I got a pedicure this morning while waiting for my flight to NJ (visiting my mother).
Then I did some window shopping, some knitting and now I am blogging.
Travel has become so civilized.
I know that lots of people hate getting to the airport early but I actually find that I am more relaxed this way.
Sure I am a near nutcase while packing and getting out of the house but once I am here, with two hours to kill, I use the time unwind before boarding.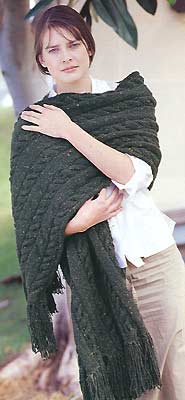 As usual it took longer to pick my trip knitting than it did to pick my clothes (although not by much).
In the end, I brought the rest of my TKGA homework, socks in progress (of course), baby hat yarn & needles, and the yarn & needles for the Holly Shawl.
I have had the yarn & pattern (from an older Jo Sharp book) for the Holly for years, always telling myself that I would get to it eventually.
However, just lately, the yarn has fallen on my head twice.
I took that as a cosmic hint that its time had come.
Looking over the pattern last night, I had trouble making sense of the cable (I have cabled before) but by looking up a different C14B, I realized that it was just the wording that was getting to me.
Once I got that, I had no trouble understanding it at all (says I, who has not even cast on yet).
The flight attendant is almost here with my tea.
I will post this from the hotel.
ETA: Arrived safely, had a really pleasant dinner with my mom, got to the hotel and unpacked. Now I am going to watch IRT and go to sleep.